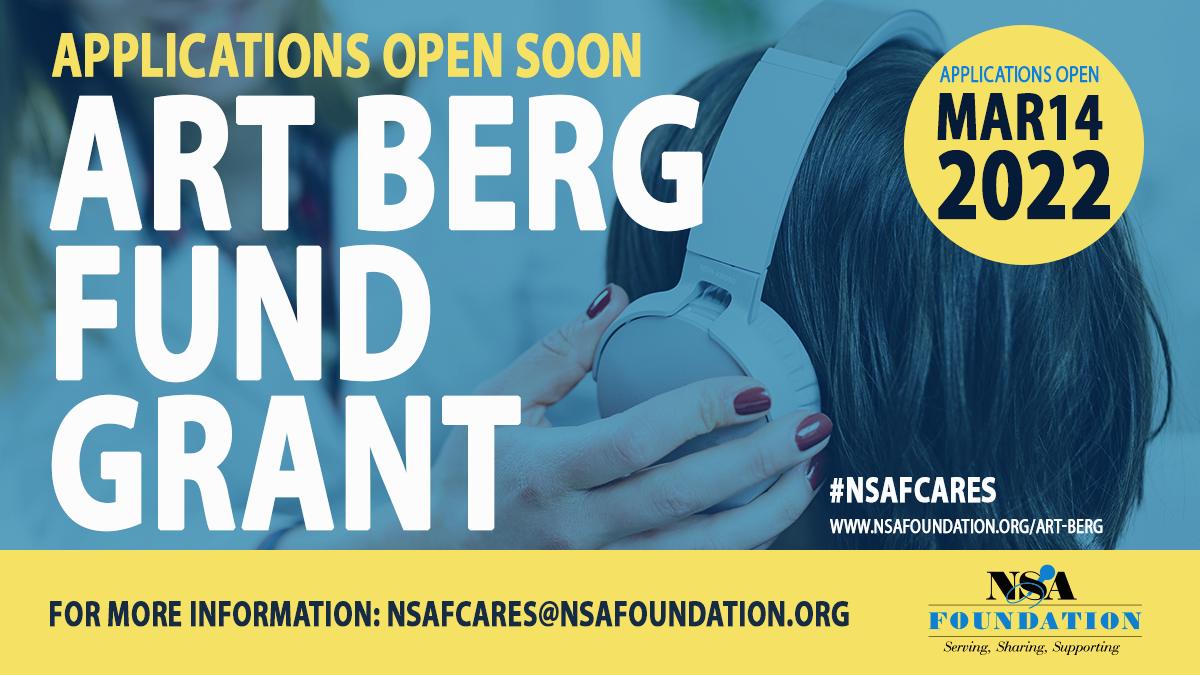 Art Berg Fund Grant
THE APPLICATION PROCESS OPENS MONDAY, MARCH 14, 2022
Each year, one $5,000 grant is awarded to a 501(c)3 organization needing financial assistance in developing and/or deploying a technology-related project that will enhance communication for the benefit of the clients they serve. To be eligible, the organization must:
Have an NSA member who is actively involved in the organization as a member of the board, standing committee, and/or regular volunteer.
Be recognized by the IRS as a 501(c)3.
Deadline Dates:
Online applications due: Monday, May 9, 2022
Any supporting materials due: Monday, May 16, 2022
For more information, contact NSAFCares@NSAFoundation.org.


About the Art Berg Fund Grant
The National Speakers Association (NSA) Foundation serves members and the public through various scholarships and grants. One such grant, named in honor of the late Art Berg—world-class wheelchair athlete and motivational speaker—was created to assist NSA members of a 501(c)(3) organization with funding technology-related projects that enhance communication.
Each year, one grant is awarded in the amount of $5,000. Examples of eligible projects include:
Creating and distributing free audio packages to the blind.
Providing software and/or hardware to after-school programs.
Developing a wireless project to connect at-risk children and/or their parents to 911 hotlines.
Establishing educational programs in sign language to parents/siblings of deaf children.
Funding research to identify ways volunteers can use technology to assist the elderly demographic.


---
Congratulations to the 2021 Art Berg Fund Grant recipient, Johnny's Ambassadors!
"Art was such a role model for all in both his character and his love of technology! This grant in his name will be a big help for our nonprofit, Johnny's Ambassadors, in our work to educate teens about the dangers of today's high-THC marijuana on adolescent brain development, mental illness, and suicide. We thank the Foundation for these funds to support us in reaching today's teens where they are—on their devices!"
—Laura Stack, Founder & CEO, Johnny's Ambassadors, Inc.| 2011-2012 President, National Speakers Association
Art Berg Fund Grant Recipients
2021 - Johnny's Ambassadors
2020 - SPARK, Eastern Tennessee Technology Access Center
2012 - ShareTheCaregiving™, Inc.
2019 - Global Service Initiative, Delta Upsilon Fraternity
2011 - Second Wind Dreams ®
2018 - Summer Santa, Inc.
2010 - Impact on Education
2017 - Empowering Lives and Building Foundations
2009 - Metrocrest Social Services
2016 - The Association for Applied and Therapeutic Humor
2008 - Recording for the Blind and Dyslexic
2015 - The Kugler Education Fund at South Africa Partners
2007 - Royce Arbour, Inc. – Hands-on Help for Management
2014 - The Coach Initiative, Inc.
2006 - Association for Applied and Therapeutic Humor
2013 - Together We Can Change the World
2005 - American Immigration Law Foundation
"The support of NSA's Art Berg Fund Grant will bring enormous benefits to the children and families of A.V. Bukani Primary School in a rural South African township. Now, the entire community will have greater access to books, something the wonderful people of this community so richly deserve."
—Eileen Kugler, Trustee of The Kugler Education Fund at South Africa Partners